No one can ignore how influential anime has become. Every person in the planet surely knows about it and even can name his or her top 5 animes. Some favor classics like Saint Seiya or Evangelion and even maybe Pokemon, but there is one thing for sure in each of those list. Any anime fan will surely rank Dragon Ball as one of its favourite animes of all time, and how could they not? Every 90's kid was sure to be a huge Dragon Ball fan. We all remember how excited we were when we got home from school and tune in the new Dragon Ball episode on Cartoon Network, or any other channel, and just sit there amazed by the skills of Goku and company. And now, as adults, just as we were ready to grow up and leave Dragon Ball in the past we find out that a new movie about Frieza, fan favourite villain, is coming to America. Forget about growing up! Time to go super saiyan about these news!
In 2013 we were greeted with a Dragon Ball Z movie called "Battle of the Gods", which was the first movie to be supervised by Akira Toriyama, the creator of the Dragon Ball universe. The movie was a success as fans all over the world rejoiced about having new adventures from their favourite warriors. Two years later no one could predict that fans would be greeted with yet another Dragon Ball movie, supervised yet again by Akira Toriyama. We feel so spoiled, but so good.
The events of the movie happen some time after the previous Battle of the Gods movie (both movies are canon in the Z storyline by the way) and everyone lives in peace, but of course, peace is something very shortlived. Just when the warriors thought that earth and the universe were safe from any villain set on destruction Frieza comes back for revenge and stronger than ever.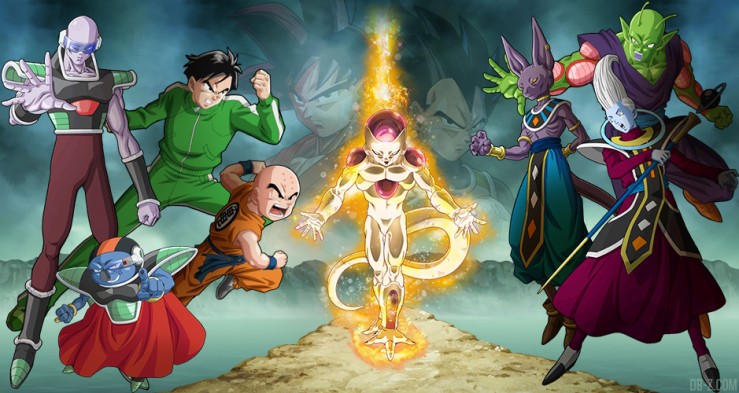 To try and not give away much of the plot, so you can enjoy it to the fullest, we will just say that Frieza has a bone to pick with the Z warriors, especially our boy Goku, and also take over Earth, because why not.
There is some plot details we can share because we are sure they are already public domain. We have all seen the latest Frieza transformation, like he wasn't a dangerous threat before, this time he transforms into Golden Frieza, much like a super saiyan, and you can bet his power will be even greater than before.
Frieza became so powerful than Goku's current strenght may not be enough. Time to ascend to yet another super saiyan form. Last movie we were greated to super saiyan god, another level of power which turned out to be amazing, but now Goku seems to have achieved super saiyan god 2. Will it be enough?
We can hardly wait to see our childhood heroes back to save the universe from the villanous Frieza. Nothing a Kame Hame Ha can't fix.